I never understood why Grandma Gorden didn't like snow. Maybe it had something to do with spending her whole life in Georgia and not being used to it. Maybe she didn't like that she had to use our car, because hers didn't have snow tires. Maybe she just didn't like being cold. But the fact remains that Grandma Gorden didn't like snow.
Grandma Gorden was born in Georgia. She'd grown up in Georgia. She'd married and had Mama in Georgia. Mama had grown up in Georgia too. But Mama went to college in New York and met Dad. When they got married, Dad wanted to move back to Canada, where he came from, but Mama said she couldn't live without her peach trees, so we moved here, to rural Vermont. In Vermont, peach trees don't bear fruit if it has been a cold winter. Sometimes we get peaches and sometimes we do not. Either way, it's enough for Mama to take care of them, though I do enjoy the fruit.
Anyway, Grandma Gorden didn't like us living up here. You see, it's a family tradition to spend Christmas together, alternating houses. So every other year, Grandma Gorden comes up here for the week of Christmas. When she comes to Vermont, she has to deal with about one and a half feet of snow on the ground, and icy roads. She never complained, but you could tell she didn't like it. Or that's how it used to be…
Everything changed the year I was ten. It was a Vermont year, so everyone was crowding into our little house. There was Mama, Dad, my little sister, Lily, Aunt Gwen, Uncle Tom, the cousins Ella and Will, Grandpa Gorden, and, of course, Grandma Gorden. She'd brought us a gift of her own canned peaches, I remember, as we hadn't gotten any of our own that year. There was only about six inches of snow on the ground, and she was cheerful. Then, on the morning of Christmas Eve, it began to snow. The weather channel said we would get fourteen inches of snow before the next day. Grandma Gorden began to grumble.
At about 8:00 p.m. Dad said he was going out to shovel the walk.
"Please, Dad," I begged, "can't I help you?"
"No, Maria," Dad said, smiling, "you need to get ready for bed."
In ten minutes I had brushed my teeth and hair, flossed, and had my snow pants on over my pj's. I grabbed a shovel and ran out to help. For some reason I always liked shoveling snow.
After a while I stopped for a second and, leaning on my shovel, stared at the sky. Snowflakes were drifting all around us. Big, fat snowflakes, some two inches across! For a moment I felt as if I were flying through space, zipping past the stars… And suddenly I knew what I needed to do.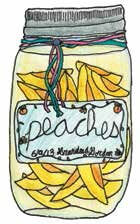 "Grandma Gorden?" I called from the door. "Could you come out here for a moment?"
"But, Maria," she said coming to the door, "it's snowing outside."
"Please, Grandma Gorden," I begged, "I need to show you something."
"All right," she said at last, "but only for a minute." Grandma Gorden put on her hat and coat. Then she slid her feet into her boots and followed me outside.
"So where is this thing you are showing me?" Grandma Gorden asked. We were standing in the shoveled part of the walk.
"Look up," I told her, and Grandma Gorden looked up.
For a minute, an hour, or perhaps it was a century, she looked up. Then a snowflake, a single snowflake, landed on her cheek.
And my Grandma Gorden smiled.