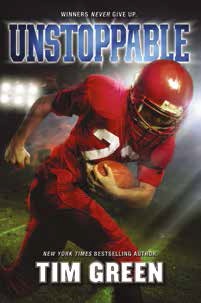 Unstoppable, by Tim Green; HarperCollins:
New York, 2013; $6.99
Unstoppable, by Tim Green, is a great book about determination, perseverance, and the value of family. It shows us the inner struggle cancer survivors go through each day, along with the battle they have to fight every minute of their lives.
One of my favorite moments is at the very end. It's when Harrison recovers from his fall from grace and gets back on the football field. Even though he got cancer and his leg had to be amputated, he still manages to gather the strength and willpower to follow his dream. I love it so much because it shows what you can accomplish when you work hard. Whenever I feel like giving up, I remember that moment, and I find the strength to push on.
Harrison and I are two very different characters. Harrison is big, strong, and loves the action and ferocity of football. I'm small, prefer to use my brains, and wouldn't get on a football field if you paid me. However, we're not total opposites. Both of us are stubborn, dedicated, and believe in equality and justice. I know that Harrison believes in equality because even when the other football players were teasing him for being so big, he didn't think of revenge or beating them up. He just wanted to be treated fairly. If Harrison was my brother, I would be proud.
My favorite character is Justin. He was kind and accepting to Harrison, even when Harrison pushed him away. He also isn't afraid to stand up for his friend. Even when other people try to push him or Harrison around, he still stands up for what he believes in: equality and fair treatment for everyone. I would like to have a friend like that!
Even though we have similarities, I can still find things that I believe Harrison should not have done. For example, when he pushed himself too far and ignored the major's advice, I was yelling at him the whole time. Also, when he was moping around and yelling at his friends, I was on Coach's side. I believed that he should get up and pursue his dream. However, I also agreed with many of the things he did. In the beginning, when Mr. Constable was beating him, I totally agreed with his decision to fight back. In fact, I probably would have done it a lot sooner.
This book will show you a different side to cancer. Most of the time you feel sorry for cancer victims because of the possibility of death, but you never knew that even the survivors may be claimed by the disease. It will also show you the importance of never giving up, and to always keep on fighting. If you're going to go down, go down with a bang!